See Kirsten Dunst, Elle Fanning, George Clooney, Stacy Kiebler, and More from the Critics' Choice Awards Red Carpet
It was a lot of black dresses, which doesn't bode well for Sunday's Golden Globes red carpet.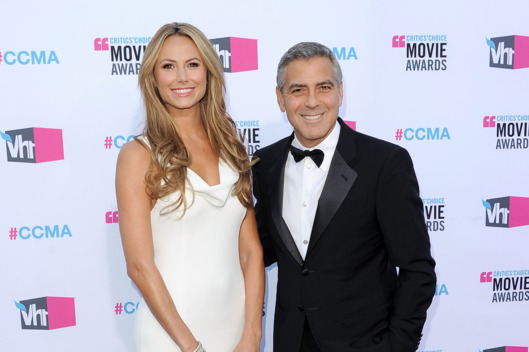 The People's Choice Awards were a mostly forgettable melange of black and shiny dresses worn by a group of people that was painfully hard to mentally place from their career achievements alone (if a testament to the power of things you might suppose people don't care about anymore, like High School Musical or Dancing With the Stars). Last night, one after the People's Choice Awards, a mostly different crowd of much more recognizable names turned up for the Critics' Choice Awards. Again, the attending actors wore a lot of black dresses, which is seldom a great color for the red carpet because it can easily wash people out and, the detail often never fully realized in photos of these outfits, makes people look like floating heads and arms behind an old-fashioned printer ink splotch.
Hopefully, this is a a realization the stars will come to on their own before the Golden Globes on Sunday. Remember how unexpected and fun it was when so many people wore emerald green to those awards last year? We can't expect 99 percent of these people to wear anything that's truly cool, lest they alienate the vast majority of potential fans that doesn't pay attention to or care about runway fashion, but if they're going to dress from a place of fear, may they at least feel the rainbow on their sinewy, juice-fasted bodies. In the slideshow, see what Kirsten Dunst, Elle Fanning, Elizabeth Olsen, and more wore to the Critics' Choice Awards last night.
BEGIN SLIDESHOW