Anna Dello Russo Changes Outfits Up to Five Times a Day
So many clothes, so little time.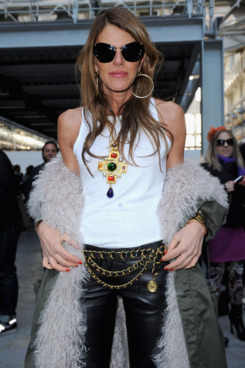 Anna Dello Russo has so many clothes for the menswear shows in Milan these past few days that she's been forced to change outfits in her car between runways — sometimes up to five times in a day. That's dedication, or what Dello Russo describes as "a performance and an inspiration," because if Anna can do it, so can you. She tells the Times, "Women say to me, 'I'm tired, I don't want to go out. It's too much effort.' And I say to them, 'You need to take a fashion shower and then you'll wake up.'"