Glamour Paris Forgot That Beyoncé Is Pregnant
We've all been there, right?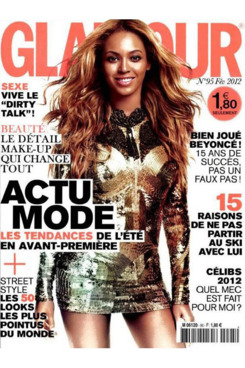 Beyoncé Knowles covers the February 2012 issue of French Glamour in a heavily embroidered gold minidress, and the magazine champions her "15 years of success, and not one faux pas." But it seems the magazine made a little mistake of its own, in that they chose to ignore the fact that Beyoncé is currently very pregnant. (Sadly, those diva-worthy birth rumors last week back didn't pan out.)
Though we know this is likely a relicensed photo from a pre-pregnancy shoot, we can't help thinking Glamour may have missed a tremendous airbrushing opportunity. Magazines eliminate bumps all the time. Why not just add one?