At Least One Store in Hong Kong Found the Dolce Photo Scandal Funny
The store's owner also said the protests moved him.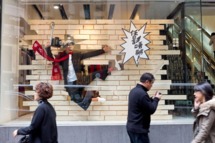 Hong Kong retailer Goods of Desire unveiled new store windows with a lighthearted, semi-logical take on the Dolce & Gabbana "no photos" scandal. The display includes a Kung Fu kicking mannequin brandishing a camera and accompanied by a large sign in Cantonese that reads, "photograph all you want."
Related: Dolce & Gabbana Apologized to Protesters in Hong Kong