Because You Will Never Tire of Pictures of Kate Middleton and Prince William With Their New Puppy
It's a black cocker spaniel.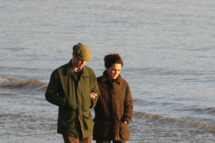 Turns out that adorable black puppy that Kate Middleton chased around her parents' yard last month was actually her Christmas gift to Prince William. The two were spotted strolling along the beach in Anglesey, Wales, with their new cocker spaniel (whose name has not been released, much to the tabloids' — and our — dismay). See the full-size shot in our Kate Middleton Look Book.