Kate Middleton Went Shopping, Bought a Discounted Top
She nabbed a sweater reduced by 50 percent.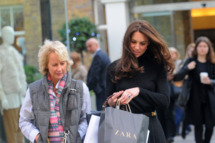 Kate Middleton was spotted on a quick shopping trip to stores on London's Kings Road yesterday afternoon. She reportedly chose a purple V-neck knit sweater, that was on sale (reduced by 50 percent!), with ornate embroidery that would look just lovely with a tiara. Of course, Kate surely had that in mind.