Here's a Dubious Rumor About Michelle Obama Shopping at Agent Provocateur [Updated]
She supposedly boosted their sales, which is nice.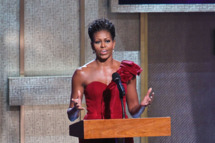 There's a totally unsubstantiated story flying around the British press today that attributes Agent Provocateur's rising sales numbers to an alleged "$50,000 spending spree" by Michelle Obama, who supposedly "closed off part of Madison Avenue to spend time in the luxury lingerie shop" with the Queen of Qatar, Sheikha Mozah, sometime last year. This story is dubious on a number of levels, not least of which is that Agent Provocateur doesn't release the names of their customers. Update: It should surprise absolutely no one that Michelle Obama's communications director deemed this rumor "100 percent false."