Michelle Obama Now Has Her Own Twitter Feed
She's already tweeted twice twice today.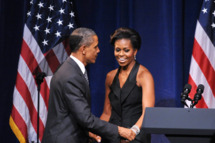 Michelle Obama got her own Twitter feed today, @MichelleObama (not to be confused with @JoiningForces, from which she also tweets sometimes). While the account will be managed by her campaign staff, she'll occasionally write her own tweets, signing them "-mo" (she's written twice today already, and has 149,219 followers).