Michelle Obama Wears a Duro Olowu Tweed Jacket
With an orange scarf.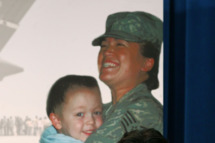 Michelle Obama wore a tweed jacket by Duro Olowu and a bright orange scarf (both of which were seen here) to visit the Corcoran Gallery of Art with her family in Washington, D.C. on Sunday. Earlier today, she wore a royal blue skirt and jacket with a floral top to a news conference at the Department of Labor. See the full outfits in our Michelle Obama Look Book.