Model Turned Activist Sara Ziff Eats Pizza, Talks Labor Unions
Even models need health insurance.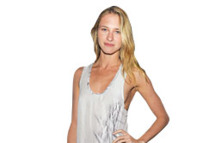 Model, activist, Columbia grad, and occasional Cut video-blogger Sara Ziff discusses her efforts to start a labor movement for models. "It's a very strange job — being a clothes hanger, essentially — but it's still a job," she explained over pizza. "We have fundamentally the same concerns as the American worker." See the full story in this week's issue.