The Musée d'Orsay Doesn't Want to Be Your Lingerie Catwalk
Fashion label Etam might be getting sued.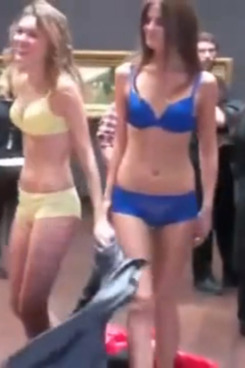 French lingerie label Etam recently sent three models to Paris's Musée d'Orsay, but not just for an afternoon of high culture. Once in the museum, the models stripped down to just their brightly colored undies and performed a quick, impromptu runway show in the middle of a gallery, before running out all giddy and giggly. A conspiring undercover museumgoer filmed their catwalking for a "funny" marketing video that's since gone viral.
While the video shows other, regular folks in the gallery to be mostly amused by the models' exploits, museum officials are not taking the stunt lightly. They say they'd not been informed of Etam's plans, and that filming — even covertly — in the museum's galleries is forbidden, representing "a serious infringement of the Orsay's rights and the rights of others." The Orsay's director Guy Cogeval has even said the museum will pursue legal action against Etam unless the video is removed from the label's website.