New Menswear Shows: Alexander McQueen, Missoni, Giorgio Armani, and More
Plus DSquared2, Fendi, Ports 1961, and more still.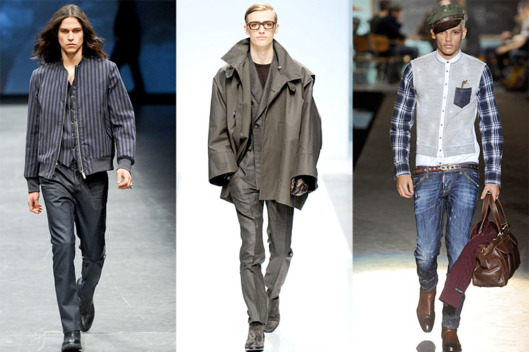 Menswear shows in Milan finished up today, with Paris on deck for tomorrow. DSquared presented a cast of rebellious schoolboys holding cigarettes and wearing denims, knits, and plaids, while Diesel Black Gold went dark and stripey with what's sure to be the foundation of a fashionable indie rocker's 2012 tour wardrobe. Finally, Ports 1961 threw a few capes into a collection of loose business tailoring, just for good measure. Also, see the new collection from Alexander McQueen — who announced a new bespoke tailoring line yesterday — and lots of new details galleries.
RUNWAY
• Alexander McQueen
• Diesel Black Gold
• DSquared2
• Fendi
• Gazzarrini
• Giorgio Armani
• Missoni
• Ports 1961
DETAILS
• Calvin Klein
• Missoni
• Moncler Gamme Bleu
• Prada
• Trussardi
• Vivienne Westwood