Party Lines Slideshow: Anna Wintour, Liv Tyler, Naomi Watts, and More Celebrate Stella McCartney's Soho Store Opening
Plus Kristen Wiig, Fred Armisen, Cindi Leive, and more.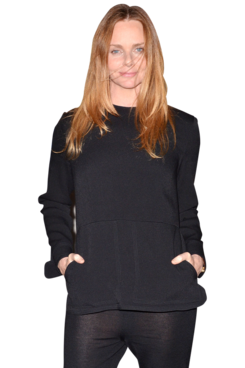 Last night, Stella McCartney celebrated the completion of her store's move from the meatpacking district to its new location at 112 Greene Street in Soho. "It was pretty smooth," said McCartney of the moving process. Does she shop in Soho? "Of course!" she answered. Anna Wintour, however, laughed out loud when we dared ask her the same question. "I never go shopping," she replied.
In addition to lots of fashion folks, Saturday Night Live's Lorne Michaels, apparently a close friend of McCartney's, attended with a number of his cast members. Jason Sudeikis said that he actually quite likes to get dressed up for parties. "You know, my dad was always big about dressing well, and I like to be event-appropriate," he said. However, he doesn't much like shopping. "I don't like trying on clothes. I usually end up buying or taking things I've worn in movies or on TV shows or on photo shoots. I just ask if I can have these khakis. Or if I can't have it I'll buy it on the Internet because I know it already fits."
BEGIN SLIDESHOW