Patrick Demarchelier Thinks There's Nothing New in Fashion
It's all recycled from ten years prior.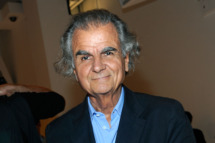 Despite being one of the most famous fashion photographers, Patrick Demarchelier is often unimpressed by the repetition he sees in clothing design. In a profile for the Telegraph, he says, "Things change. Then, after a while, they come back. So things get longer and longer and longer. And then they get shorter and shorter and shorter. And at the fashion shows, people say, 'Ah! Fantastique!' — but things were like that 10 years ago; they go around. Only amazing designers think of the truly new." But, there is one thing that Patrick is consistently excited about shooting, even if it's not fashion-related. "When people ask me which is your favourite portrait," he says, "they expect it to be Diana, or someone famous. But the answer is my dog, Puffy."