Patrik Ervell Likes That Guys Are Just 'Cylinders' for His Clothes
A man's body is "much simpler to work with."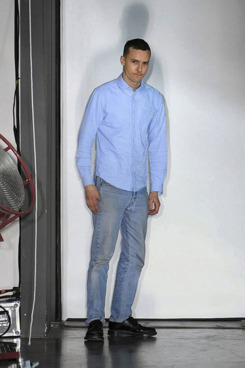 The rising designer explains his preference for menswear — in addition to the fact that he's his own fit model, so he never has to buy clothes. "Men are really just cylinders, much simpler to work with than a woman's shape. Also, there's a different kind of mentality to the clothes ... there's never a seasonal jump. Men don't dress that way. No one actually says, 'This season India is my inspiration,' or whatever. That's nonsense." Perhaps if we could see behind Karl Lagerfeld's sunglasses, we'd catch him raising an eyebrow.