Pippa Middleton Gets Photographed Nearly 400 Times a Day
So says the <em>Daily Mail</em>'s photo editor, who would definitely know.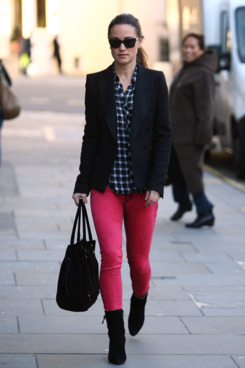 The Daily Mail's photo editor, Paul Silva, testified at the Leveson Enquiry in London today, a review set up in the aftermath of the News of the World hacking scandals. Presumably discussing invasive press/paparazzi tactics, he spoke of how he's sent between 300 and 400 photos of Pippa Middleton each day — from a typical team of eight or nine photographers who camp outside her front door, snapping her walking to and from work. (Here she is today in pink skinny jeans, for example.) Even with — or perhaps because of — the large number of shots he'll receive, Silva said he "saw no need to constantly run photographs of Pippa." But wait, why not?!