Simon Doonan Has Sympathy for Kim Kardashian, Does Not Read Fashion Blogs
He prefers the <em>Daily Mail</em>.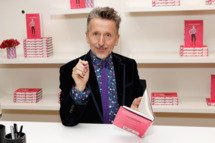 Simon Doonan wrote his delightfully funny new book, Gay Men Don't Get Fat, in a mere six months (on top of all his normal work for Barneys and columns for Slate). However did he manage it? In addition to being fortified every day by a huge bowlful of "very gay" blueberries and All-Bran (as you'll learn in his book), he never reads fashion blogs, or any blogs, or Twitter for that matter, according to his "Media Diet" in the Atlantic. He sends his own tweets to his assistant, who posts them for him. "But if I was Kim Kardashian, I would tweet regularly," he writes. "Because it really makes sense for people who have no discernible accomplishments ... And that's not a diss to her. I think it must be complicated being Kim Kardashian, that porn tape flying around, you'd give anything to get it back and out of circulation."