Watch Anna Wintour Make Decisions for the CFDA
As seen in the new web series, <em>The Fashion Fund</em>.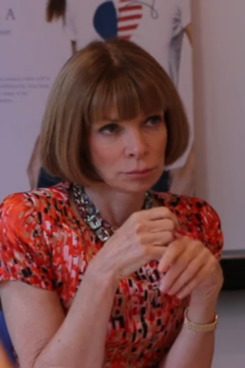 The first episode of The Fashion Fund, a six-part web series that shows the process behind the most recent CFDA/Vogue Fashion Fund competition, premiered today on Hulu. The 23-minute episode gives the background story about the designers applying for the Fund, with plenty of spliced interviews from members of the CFDA board and previously nominated designers nicely edited in. But the most interesting aspect of the show is, of course, watching Anna Wintour criticize the candidates. "Well, this is just generic," she says, mulling over a look book from Nice Collective. "I mean, it's fine, it's not offensive." Anna pushes for Joseph Altuzarra (who goes on to win ... hmm). But we can get behind Joseph because of his earnest summation of why this whole Fund thing matters: "It's New York City and there's a million of us vying for just someone to pay attention." Aren't we all, Joseph? Aren't we all?