Anna Dello Russo Wants to Be a Singer, Compares Herself to the Queen
She's over the magazine industry.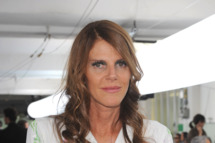 Anna Dello Russo says her next career move will be in music. "I want to finish in fashion, become a singer and release a record," she said at a talk series at London's V&A Museum. With her over-the-top outfits and her sweet dance moves, joining the likes of Lady Gaga and Nicki Minaj might not be that much of a stretch. Also, she compares her relationship with street-style photographer Tommy Ton to that of the Queen and Cecil Beaton. "I went to see the exhibition of Cecil Beaton's portraits of the Queen, and I thought, 'That's just like me and Tommy!'"