Backstage Beauty: Thom Browne's Makeup Artist on How He Created Those Silver-Leaf Lips
The look was inspired by Tim Burton's heroines.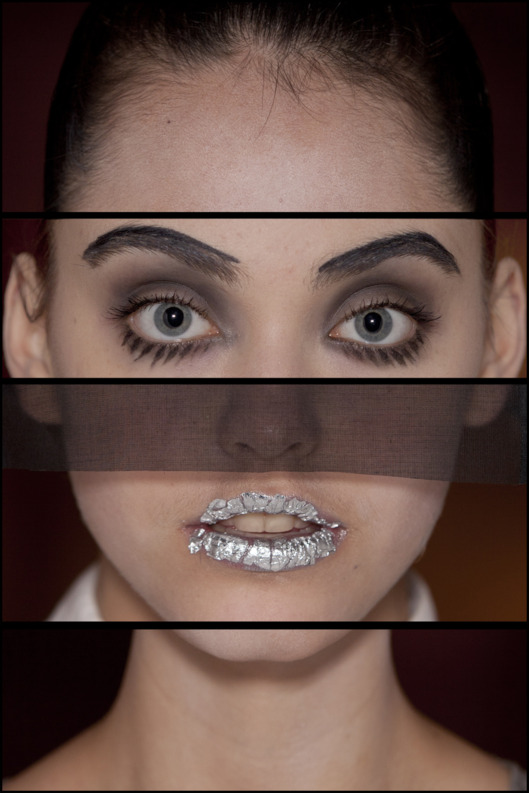 Photographer Blake Hamilton documented more backstage beauty for us at Thom Browne yesterday, where he captured the models' spectacularly theatrical makeup. The otherworldly look was created by MAC key makeup artist Sil Bruinsma, who made the models appear doll-like with matte skin and painted lower lashes. "Thom was really inspired by Tim Burton," he explained. "So, really dark, with really pale, cold skin." He also used Vaseline to affix bits of silver leaf to their lips. (For the show, the tops of the models' faces were covered with dark shrouds pinned to their hair, but you can see their full faces here.) Bruinsma explains how to try the look for yourself, perhaps for a costume party or, you know, if you're just in the mood.
GET THE LOOK
Eyes
"With a fluffy brush, I did a color wash around the eye in gray. It's a color called 'Smut.' It wasn't too precise, it was really just a wash. For the lashes, I did two coats of mascara for the top lashes and left the bottom lashes bare, but I drew in five or six lashes under their eyes. It was all very blunt with the eyelashes, nothing feathery, so that they really looked like dolls."
Brows
"I drew a very thin, very dark line —  I used a color called Engraved — through the eyebrows, right through the top edge of their eyebrows."
Skin
"We did a full-on foundation mixed with white pigment all over the face — even on their ears — and then powdered it down with white powder to give that ivory look. There was nothing at all on the cheeks, so they looked really pale."
Lips
"I did a silver lipstick as a base. Then I layered Vaseline on top of it, with a few pieces of silver leaf dabbed on. The Vaseline acted as an adhesive. It's actual silver leaf. Don't worry, it's all safe."