Best Bet: Ballet Tote
A simplified version of Fleabags' canvas and leather tote.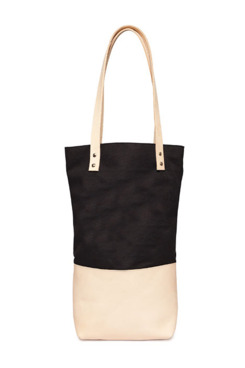 Local designers Shira Entis and Alex Bell launched their Fleabags line in 2009, melding vintage and salvaged materials with luxe leathers to create durable, covetable carryalls. This month, the pair is launching two exclusive styles of the bag at VPL: a green-accented twist on the Alice knapsack and a simplified version of the Ballet tote. Though the original tote sported a large screen-printed design, the latest style is clean and versatile, contrasting a black cotton-canvas upper with a blush-colored vegetable-tanned leather base. The elongated nineteen-inch by thirteen-inch size makes it conveniently ample without feeling bulky, and the slim shape gives the typical boxy canvas tote a sleeker look.
Ballet Tote in Arcade, $165 at VPL.