Best Bet: Coonley Earrings
Sterling silver jewelry inspired by iconic works of architecture.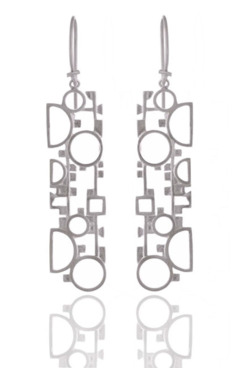 Rather than piling on crystals and blingy embellishments, industrial designer Andrea Panico's Little Architecture collection relies on clean lines and sculptural silhouettes to make a statement. The jewelry takes inspiration from iconic structures around the world, from the Alamillo bridge in Seville to the Tlalpan Chapel in Mexico City. These intricate drop earrings borrow artful design elements from the geometric windows of Frank Lloyd Wright's Coonley House. Each sterling silver pendant is just under two inches long, so they're striking without being heavy or outsized.
Coonley earrings, $99 at the Guggenheim store or online.