Best Bet: Odette Arrow Ring
The local designer's latest collection is Valentine's Day–appropriate, but not overtly cutesy.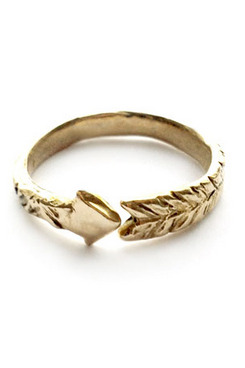 With heart-shaped trinkets overtaking the accessory racks this month, Odette's new Arrow ring makes for a refreshingly understated Valentine's Day gift that isn't overtly cutesy (or pink, for that matter). The local label's Athene Divinus collection is inspired by ancient artifacts, so the form can reference Cupid's arrow or less romantically loaded lore. Each ring is carved from wax and hand-cast in sterling silver or brass.
Odette New York Arrow Ring, $75 or $138 online.