The Courtin-Clarins Women, Undressed and Explained
The impossibly chic foursome gets profiled in our Spring Fashion Issue.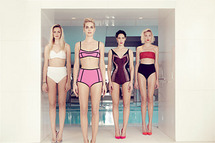 Fashion's new star foursome, Virginie, Jenna, Prisca, and Claire Courtin-Clarins, discuss manicures ("Hands are the first thing that I look at"), London ("Tiny doors. It is a midget city"), and work — yes, they all hold jobs at Clarins, which was founded by their grandfather — in our Spring Fashion Issue.