Domenico Dolce and Stefano Gabbana Love Sugary Cakes, Refuse to Eat Them Anyway
Oh, fashion. Cakes are made to be eaten like gowns are made to be worn.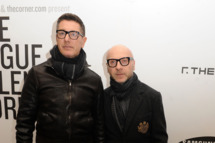 Financial Times fashion editor Vanessa Friedman interviewed Domenico Dolce and Stefano Gabbana recently over lunch at their offices in Milan. During the meal, she's ashamed to admit, her manners got the better of her. Though she's careful to note it's only out of politeness, she indulged in the two courses of food served to her — only to find neither designer eating the second course along with her: "I look at the food on my plate and feel a bit silly. I am the only one eating, which in the fashion world is pretty weird." (Both designers did manage a small portion of soup as an appetizer, and Stefano admits he's on a detox.)
And then, perhaps just to rub it in, the design duo each confess their love of of sweets over dessert, "a glass-domed plate piled high with little Sicilian desserts. Says Gabbana, "sugar is like a drug ... I can eat an entire panettone in one sitting." But they don't snack on the smallest of pastries — presumably, neither does Friedman, who lauds their "absolute control."