Apparently Emmanuelle Alt and Carine Roitfeld Must Be Separated at Shows
Also, Julia Restoin-Roitfeld is using her pregnancy as "an excuse to take it easy."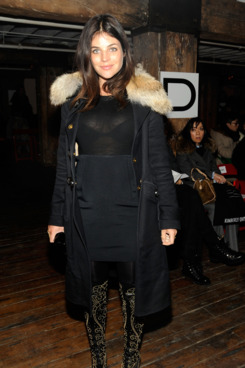 At last night's Altuzarra show, Emmanuelle Alt arrived right on time (wearing white jeans, but no Vogue tee, sadly) and took her seat in the front row. But no sooner had she gotten settled when a publicist whisked her off to a different section. Presumably her relocation was due to her proximity to Carine Roitfeld, who swept in moments later with her daughter Julia and plopped down right next to Emmanuelle's original seat, according to Stylelist's Christina Anderson. Julia, who wore a tight, sheer black dress and towering black and gold boots, gestured to her stomach and explained matter-of-factly to reporters that "being pregnant is a great excuse to take it easy during fashion week."
Related:
• Carine Roitfeld: 'I Am the Winner'
• See Altuzarra's Complete Fall 2012 Collection
• See All Backstage and Front Row Photos from Altuzarra's Fall 2012 Show