Free Association With: Peter Som
The man appreciates his Clooney.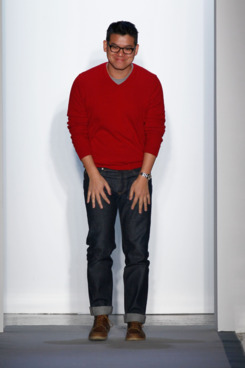 Fresh off his show this morning at Milk Studios, we tapped designer Peter Som for our latest edition of word associations with fashion folk. His autumn/winter 2012 collection was inspired by screen divas Katharine Hepburn and Marlene Dietrich and the menswear looks they favored. "I was looking at pictures of them and that's where I started, but I also added cleaner, more architectural lines." Lingerie-inspired sheer skirts and tailored leather pants made appearances, as did multicolored fur coats in vibrant burgundies and deep greens. So what word causes Som's brain to jump to everyone's favorite perennial bachelor? Read on.
Microtrend: "Beer. It somehow makes me think of beer — maybe because of microbrews?"
Street Style: "Authentic."
Masculine: "Strong. George Clooney."
Feminine: "Strong…in a different way."
Double Denim: "Go for it."
Bloggers: "Mavericks."