Free Association With: Sophie Theallet
"A woman wearing a turtleneck always looks neat, chic, and polished."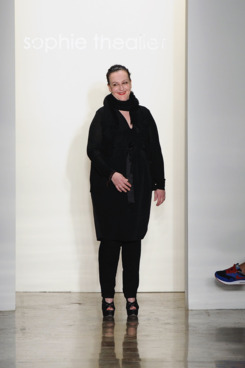 The ever-ebullient Sophie Theallet was subjected to our latest round of free association after her show yesterday, which was inspired by "an eccentric woman who may not have much money, but spends it all on clothes!" she exclaimed backstage, interrupting herself to shower two of her models with good-bye kisses. Theallet's silhouettes needed little explanation: The shapes were as womanly as ever, cinched at the waist with colorful sashes tied into girlish bows. When necklines weren't plunging, they hovered primly above the collarbone; many of the dresses were layered snugly over turtlenecks. Meanwhile, the collection's eccentricity came out in its madcap, Victorian-style print, often rendered in shades of magenta, teal, red, and chocolate.
Valentine's Day: "Red. Valentine's Day is not something that we celebrate in France, so for me, I just see the color. It's not a special day for me, you know? But I love the color red."

Lipstick: "Red! Always."

Turtlenecks: "My show. I think a woman wearing a turtleneck always looks neat, chic, and polished."

Sexy: "Something you don't try. You are sexy, you can't try. If you do try, it looks too much, and it's not a good thing."

Red wine: "Love! Because I love red wine, of course."

Tonight: "Drinks. Celebrating with my team and my friends."