Fug Girls: Dita Von Teese Makes a Statement at Zac Posen
She looked exactly as you would expect: polished and completely unblemished.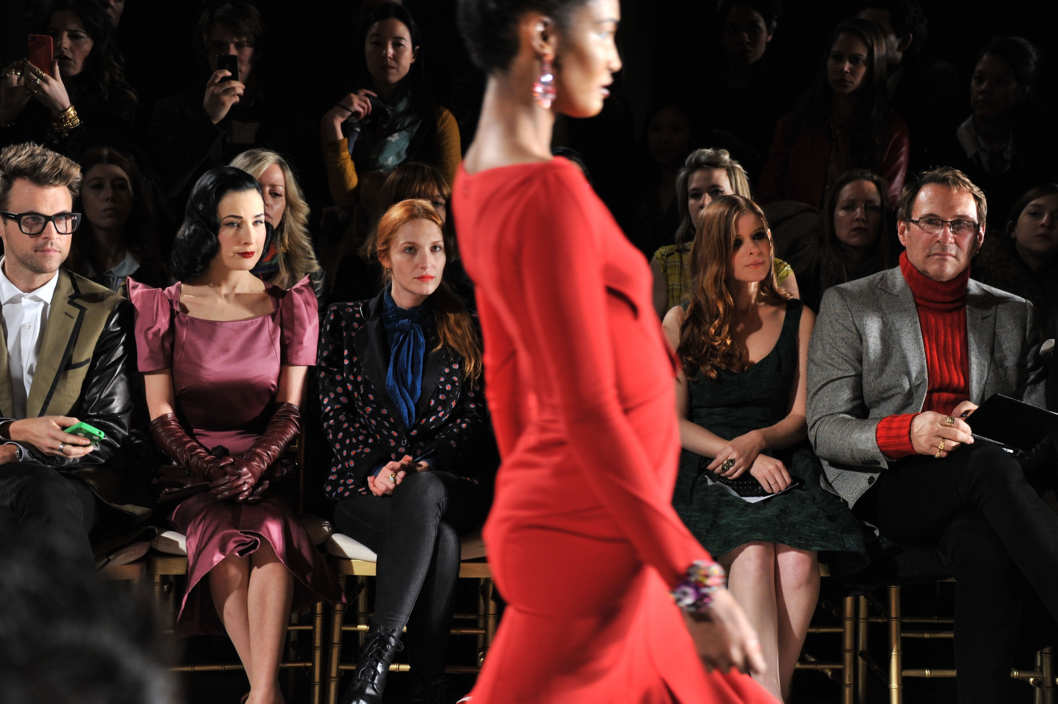 Things we learned at Zac Posen on Sunday night: Dita Von Teese smells like hairspray. Elnett, specifically—which makes sense, given that it has both retro appeal and the mega-holding power that a girl with a jones for a complex updo requires. In addition to having a thematically appropriate odor, La Von Teese looked exactly as you would expect: polished and completely unblemished, in a dark mauve calf-length satin frock accessorized with elbow-length leather gloves. "She has a huge collection of leather gloves," we overheard the reporter next to us say. "It's a statement." We're not sure what statement it is, but we just hope it isn't, "Hey, if I have to stab you later, I'm totally not going to leave any prints."
Next to Dita we found Kate Mara, and felt appropriately heroic for wielding a Steelers pen, even though it's the franchise her relatives own that didn't win the Super Bowl (well, not this year, anyway; holla, 2009!). "That experience was hard to describe," she said of last Sunday's game. "It's rare that I get to see my father so happy that he's crying. And it becomes a ripple effect where suddenly everyone's crying." (Including Gisele, it seems, but we resisted the temptation to dredge up that whole brouhaha.) Mara, who has lived in L.A. for the past eight years, said she was thrilled to arrive yesterday and have snow fall on her when she got out of her cab—but noted that that her fairly recent arrival meant she couldn't pick an outfit for the show until today. Since we have plenty of time to try on our clothes before we pack them and still somehow end up with nothing to wear, we wondered if that type of tight turnaround freaks Mara out. "Oh, yeah! A lot of times things are too long on me, or too big, because I'm petite, so you're screwed either way," she said. "I wish I could just tailor my own stuff. It'd be so much easier. Usually I make sure I have enough time to get things altered, but thank God this fit perfectly." The color of her Posen frock was a really standout, gorgeous emerald, which we love to see on a redhead and yet weirdly rarely do. "I also love a redhead in red," she grinned. "I'm afraid of red lipstick though, and I have been for a while, but I feel like one day I'll get there. Right now I'd rather just wear Chapstick." Spoken like a girl who's survived, and never forgotten, many a New York winter.
After the press corps was cleared from the runway, we ended up watching the show standing near the curtain from which the models emerged, which afforded us a nifty up-close look at the intricacies of the kind of dreamy ball gowns we'll assuredly see in a week or so at the Oscars. It was frankly fascinating to watch the models put on their fierce walking faces before getting their strut on (and occasionally skidding slightly, just slightly, before they hit their stride). We could also see the shadows of the backstage photographers going crazy for each dress before the model emerged, and hints of Posen giving last-minute adjustments—not to mention repeated glimpses of the designer himself peeking his head around the drape to check on the show's progress, looking delightfully impish each time. Once the show was over, and Coco Rocha—who opened and closed it—was safely backstage, we heard all the models burst into raucous cheers and applause. That felt like a statement that we feel safe in saying probably didn't involve a felony. (For more Fug Girls, go here.)