Fug Girls: Nina Dobrev Wins Nicest Celebrity at Fashion Week Title at Monique Lhuillier
She just has that general loveliness about her that is strangely common among Canadians.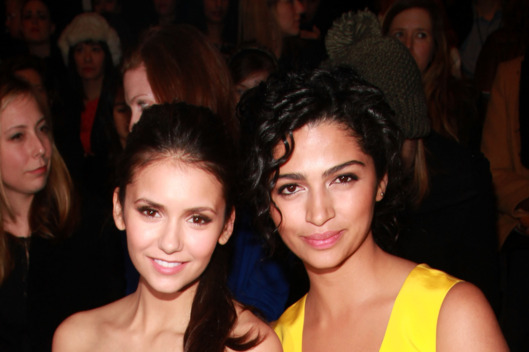 We've survived many a Fashion Week photo scrum from behind the lenses, and wondered how the celebrities ever manage to stand in front of them without wincing, fainting, or fleeing. But at Monique Lhuillier on Saturday night, we ended up experiencing a bit of it from the other side, because — through the magic of the universe — we were seated directly behind the two boldface names in attendance: The Vampire Diaries' Nina Dobrev, and Matthew McConaughey's fiancée, Camilla Alves. As in, LITERALLY behind them. As in, while they posed both seated and standing, we were in an abundance of the photos and thus spent our time trying very hard to look like responsible, intelligent, mature adults with unimpeachable posture, and probably failed on all accounts because we were simultaneously trying to get good pictures for Twitter and the those things are often mutually exclusive. It's very hard to be blasé and calm while you're testing out your iPhone zoom and Googling how to spell McConaughey.
The seats also got us close-up views of the gowns they wore, which in Alves' case was a stunning canary shade and for Dobrev was a beautiful bright blue. We are suckers for color, and they were exhibits A and B as to why the awards ceremonies are such a snooze when everyone shows up in some variation on a flesh tone. Our locale also afforded us a chance to chat informally with Dobrev and, whether we meant to or not, hear much of what she said to other people. And as it turns out, Nina Dobrev is lovely. Sincerely, everything we heard her say was warm and genuine, which after almost six years in the tents we can vouch almost never happens. She was nice to Camilla Alves, putting an arm around her when they were prompted to pose for pictures, and telling her they were best friends now. She was nice when we, two wackadoo strangers in winter coats, randomly popped our heads in to tell her what a hit her red Donna Karan Emmy dress was. She was nice when that led to reminiscing about Giuliana Rancic interviewing her on the red carpet, at which point Dobrev worried about how Giuliana was feeling post-cancer surgery and fretted that she hadn't been able to get in touch with her to wish her "good luck and good energy." She was nice about the clothes — and she was right; they were very impressive best-dressed Oscar bait ("I love awards season," Dobrev giggled to Alves) — and she was nice when we popped up again to suggest she order one of each of them for her closet. She was just… nice. We wonder if it's because she's Canadian. Think about everything kind that great nation has given us: Marty McFly, Captain Von Trapp, Jack Bauer, Celine Dion and her Mighty Fist-Pump of Passion, dill pickle potato chips, and now Elena Gilbert. And what have we done for them lately? Hopefully, this Valentine is a start. (For more Fug Girls, go here.)