Those Glittery Cupcakes Betsey Johnson May Have Sent You Yesterday Will Be Sold During Fashion Week
In case you didn't get your fill of edible sparkles.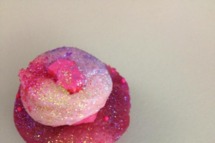 Betsey Johnson's fashion show invitations arrived yesterday with a tray of sparkly pink Baked by Melissa mini-cupcakes sprinkled with pop rocks. (For the record, Amy Odell may still have pink glitter on her desk.) If you aren't deterred by carbonated candy, you'll be able to buy more of said cupcakes on Baked by Melissa's website during Fashion Week. Because what would fashion parties be without themed cupcakes, really?