Helen Mirren Looks Different as Night and Day
Thanks to Dolce & Gabbana.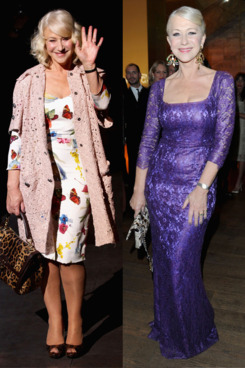 Helen Mirren skipped the Oscar festivities to attend various Dolce & Gabbana events in Milan yesterday. She started the day in a floral Dolce & Gabbana crocheted coat with black peep-toe pumps and a leopard print bag. Later that night, she attended the brand's cocktail party in a regal purple lace dress.
Do you prefer the day or night version of Helen? Any qualms with mixing leopard and floral in her daytime look or the very purple color of her evening gown?