So How Was Anna Wintour's Fashion Week?
Those revolving doors can be tough, you know.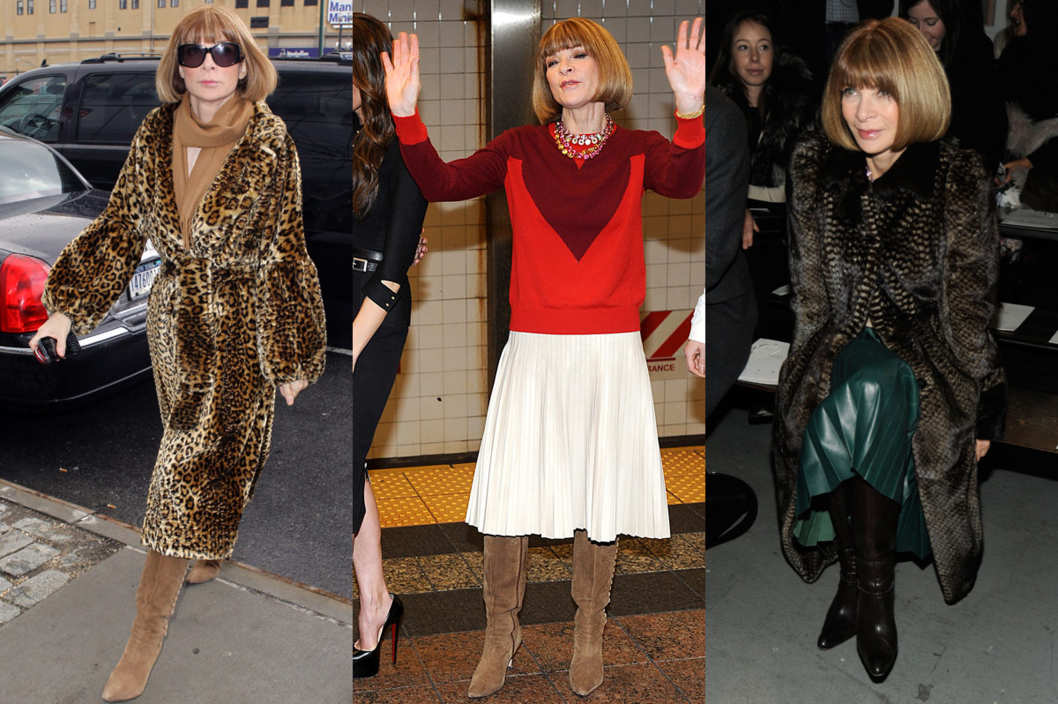 Despite the presence of gussied-up celebrities, peacocking models, and streaking comedians, Anna Wintour is still the most-watched and most-photographed person at Fashion Week. But with high status comes responsibility to entertain the masses. And when her every move is watched closely by reporters (er, sorry, "spies") whose livelihoods depend on eking an item out of her actions, even the slightest awkward moment — including totally normal things, like balking at a revolving door or losing patience with the MTA — becomes news fodder. Read on for our roundup of Anna's Fashion Week non-antics.
At Band of Outsiders:
"Spies say that the Vogue editrix headed backstage before designer Scott Sternberg's Band of Outsiders show when she was stopped by a clueless security guard ... He yelled, 'Ma'am, you cannot come back here without a wristband!'" [Page Six/NYP]
At (or not quite at) Billy Reid:
"Wintour had arrived at Milk Studios for designer Billy Reid's show, spies said, only to be told at check-in that the event wasn't there at all. Wintour kept her cool. 'Anna didn't even respond,' said a spy. But Wintour made it to Eyebeam (the proper venue) in time for the show." [Page Six/NYP]
At Prabal Gurung:
"A source who attended the Prabal Gurung show at the IAC building on Saturday said the Vogue editor seemed momentarily stymied by the entrance to the Frank Gehry-designed glass structure. When the perfectly put together Wintour, trailed by aides and photographers, reached the entrance — a central revolving door flanked by two of the hinged variety — she paused and said in what our source described as a 'pissed-off tone,' 'How do we get in?' Before one of her staffers could respond, a photographer cracked, 'The door ... in front of you?' Rather than risk a dizzy spell, our source says Wintour chose to enter via one of the hinged 'side doors.'" [NYDN]
"All hail the Queen — just don't greet her. At Saturday's Prabal Gurung show, a blonde British socialite made the mistake of approaching Anna Wintour and saying hello. She even went so far to curtsy and bow to Her Majesty, but the icy Vogue editrix wasn't having it. Instead, Wintour quickly turned her head, leaving the woman hanging as she then tiptoed back to her seat, flushed." [NYDN]
At Victoria Beckham:
"How does Anna Wintour take her coffee? On a silver platter, of course! At Sunday's Victoria Beckham fashion show at the New York Public Library, the Vogue editrix had security bring her a Venti Starbucks coffee on a large tray before the show began." [NYDN]
At Grand Central:
"'Please wait for the train. It's all about the train,' Anna Wintour said in vain Wednesday afternoon as photographers shot a cadre of British fashion types on a subway platform at Grand Central Terminal ... Despite promises that the train would be coming back, it never did (so it goes sometimes in New York)." [WWD]
Related: Please Enjoy This Fabulous Picture of Anna Wintour on a Subway Platform