Jenna Lyons Remembers Whitney Houston
Backyard dance routines and a haircut gone wrong.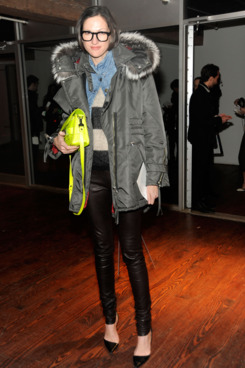 There was a lot of screaming from the dancefloor every time the DJ played Whitney Houston last night at Joseph Altuzarra's after-party at Red Egg, where J. Crew creative director Jenna Lyons shared her memories of the singer: "My next-door neighbors, Amy and Monique, we had a little routine, and we'd make the parents line up in the backyard and watch us. She and Olivia Newton John were high on the list — Xanadu, Grease, and then Whitney. That whole era was so incredibly tacky, but I have good memories. I don't know if you remember the 'I Wanna Dance with Somebody' video. I was sort of obsessed with her when I was little, and I took a picture of the television set — because there were no screen-grabs or printing it from the internet — and I took it to a hair-dresser and I asked him to make my hair look like Whitney Houston's. I don't really know what I was thinking, but it did not work. It did not look good. I was really super-into her. Remember the hair-do with the kerchief on the head and all the curls? Yeah. I somehow thought it was a good idea for me to have that too. They put my hair in rollers with hairspray all in it, and then put me under the dryer for like, an hour and fifteen minutes. But it wasn't short enough. I don't know what I was doing! What I'm really surprised about was that they actually indulged me." Apparently, someone knew early on that it was a good idea to indulge the aesthetic whims of Jenna Lyons.