Kate Middleton Thanks Her Wedding-Dress-Makers
She made a special trip just to meet them.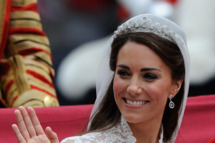 Kate Middleton visited the Royal School of Needlework at Hampton Court Palace yesterday to thank the master embroiderers who helped make her wedding dress. The embroiderers hadn't known who the dress was for until just before the wedding, and still took extra pains to keep it in pristine condition. Kate reportedly sympathized with the pressure they must have been under, because she's just that nice.