Look, Diane Von Furstenberg With Small Children!
Admit it, you needed this today.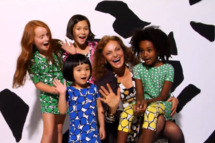 Whether you're stuck at work on this holiday Monday or at home recovering from whatever foolhardiness you got up to last night, this'll cheer you up: here's a video of Diane Von Furstenberg's new Gap Kids line. The clip shows Diane working on the clothes and, of course, playing with the little girls wearing them. You can see the clip here; the line hits stores on March 15.