Lynn Yaeger: Fake Coins, Worthless Bills, Accomplishment, and Artistry at Altuzarra and Miguel Adrover
Plus the veteran critic's take on Degen, Cushnie et Ochs, Suno, rag & bone, Band of Outsiders, and Barbie's 50th birthday.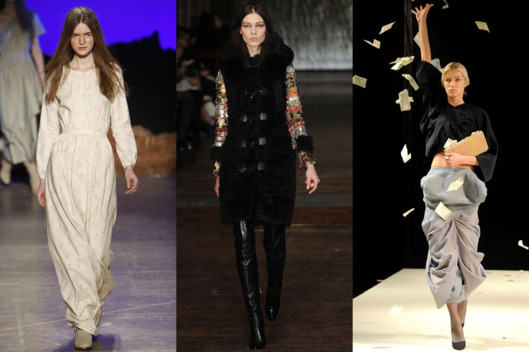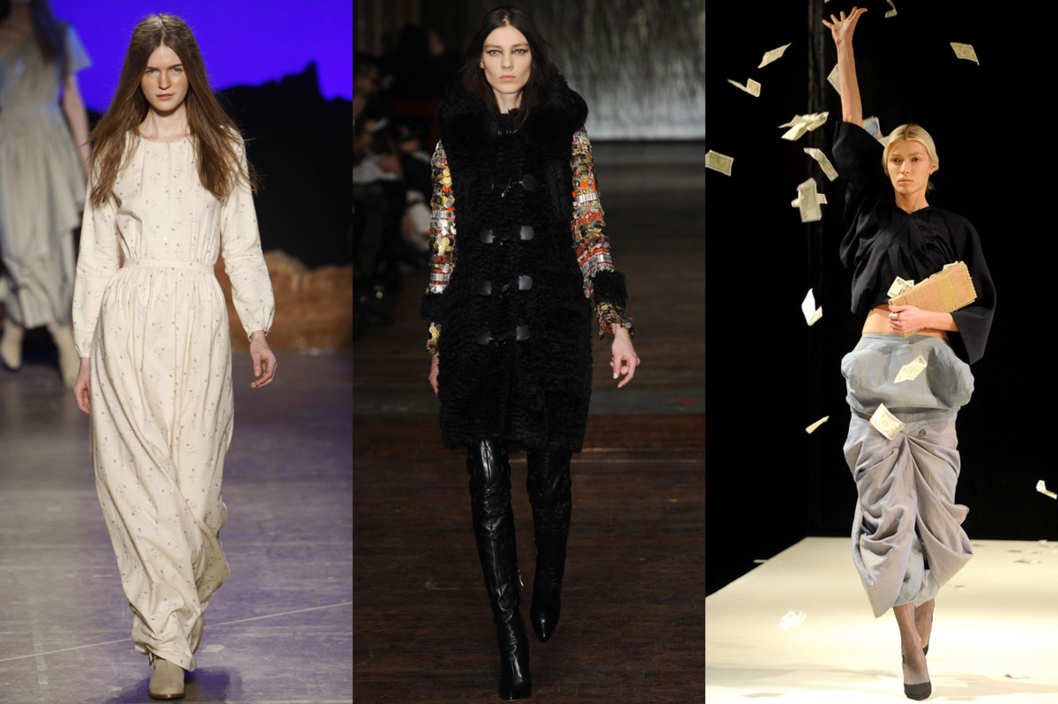 Because I am never in the right place at the right time, I miss the Degen presentation that takes place before the official New York Fashion Week begins and which purportedly boasts the endorsement of Patti Smith, a genuine style icon of many years standing. The show is notable for knitwear that outlines the breasts like archery targets, rendered in a cheerfully salacious way, depicting a notion of womanhood — a blatant cartoonish one, to be sure, for all its youthful insouciance, that also turns up at Cushnie et Ochs (not to be confused with Ohne Titel, Skaist-Taylor, and other Fashion Week duos with difficult-to-remember names.) C et O favors body-con sheaths with naughty cut-outs at the bustline, a conceit that would challenge the belle-est of poitrines. (Even then, such overt dishes of sexuality are best served with a pair of cold combat boots.)
Across from the Lincoln Center tents, there is an event meant to celebrate Barbie's 50th birthday — an elaborate installation with 24-foot-tall bejeweled pink walls, pink cotton candy clouds, and floor-to-ceiling rows of pink pumps. Models dressed as Barbie are in residence in a life-size Dreamhouse, and though the exhibit is not without its appeal, in an Elle Woods sort of way, it does make you realize how little certain ideas about women have changed in the last half century. (On the other hand, the Fashion Week courtesy vans this season are emblazoned with the slogan "Serious Style/Serious Protection Kotex," a product that was never mentioned in polite society, let alone written on a truck, in 1962.)
It's been an odd fashion week so far, not funny ha-ha, alas, but funny strange. If you were expecting a specter of insurgency to hover over the runways, there is little evidence of this so far. Maybe the intended customer, sick of doomsday scenarios, would rather just whistle in the dark and don a pair of pretty floppy printed pants, courtesy of Suno, where the trousers are accompanied by charming flowered shoes.
Then again, she could jump into these ersatz-jammies and help rebuilt the tents at Occupy Wall Street, should those encampments rise again in spring. If she is chilly lying on the ground all night, she could toss on a striped blanket coat from Rag & Bone (whose sound system, vibrating just under the bleachers, is so disconcerting and intrusive it feels like you are undergoing a 19th century treatment for frigidity while you watch the show.) At Band of Outsiders, the collection is meant to evoke the Southwest, and there is an orange-y stage set reminiscent of the Citibank rock-climbing commercial that has Florence Welch singing "Somebody Left the Gate Open." B. of O.'s suggestions include ankle-length dresses with a hipster-Amish vibe, and such witty self-referential flourishes like a horse blanket scarf printed with horses.
Stallions also decorate a sweater at Altuzarra, who presents a remarkably accomplished collection, apparent from the opening look — a black astrakhan coat whose sleeves are encrusted with dangling paillettes, some of which turn out to be fake coins. Devalued currency is also in the air, in fact literally, at Miguel Adrover's comeback show on the Lower East Side: worthless bills flutter out of models' hands, underlying the fraught post-apocalyptic vision unfolding on the catwalk. All the ensembles appear to be one-off and made of repurposed garments, and some employ bark and straw— neo-punk fantasias heavily influenced by Comme des Garcons (all those upside-down jackets) and an enthusiasm for layering so serious it sometimes seems as if the models have piled on all their clothes in an attempt to get through airport security without checking a bag. But for all the wacky rebellion, these concoctions are assembled with an artist's hand, and the designer's authentic transgressive spirit is as bracing as the cold slap of winter that greets you as you leave the show.
See the complete Cushnie et Ochs fall 2012 collection
See the complete Band of Outsiders fall 2012 collection
See the complete Suno fall 2012 collection
See the complete Altuzarra fall 2012 collection