Mary Katrantzou for Topshop Sold Out Already
In just an hour, apparently.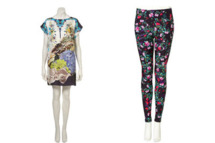 Hopefully you didn't want any of those Mary Katrantzou for Topshop dresses because they're already gone, according to Racked. The line dropped this morning, and even though excited customers were only permitted to buy one item each, they still made off with almost all the merchandise within an hour. You can still get four of the items online (but they're not the collection's cutest pieces, because that would just be too easy).