Michael Kors Used to Wear Cashmere Leg Warmers
And more fashion nostalgia from last night's CFDA "Impact" opening.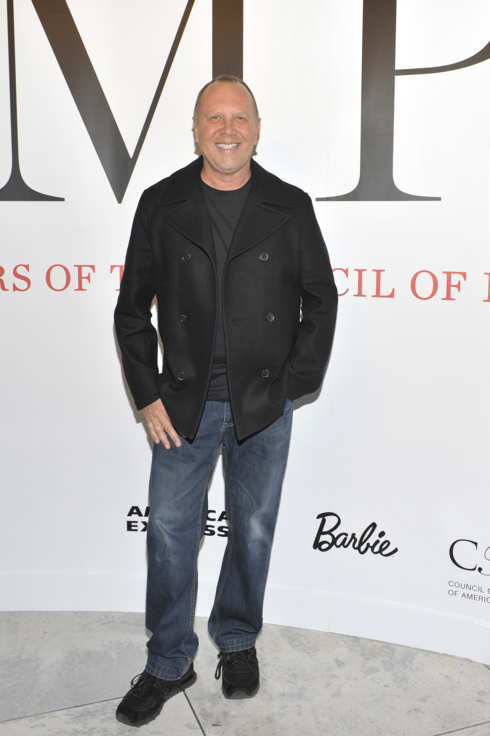 Designers and editors were nostalgic last night at the Museum at FIT's opening of "Impact," an exhibition of clothing by CFDA designers from the last 50 years. There was a lot to reminisce about: a circa-1981 Ralph Lauren Navajo blanket coat, nineties-era shiny minimalist Calvin Klein, a printed grunge dress by Marc Jacobs. A more recent Michael Kors look from Spring 2011 was totally tasteful — crystal-beaded pajama pants with a cashmere sweatshirt (just for laying around) — so when we saw the designer, we asked whether he had any regrettable fashion memories.
"Leg warmers," he said. "I wore leg warmers. I wore leg warmers when I went to FIT and I shouldn't have." What were they made of? "Oh, I think they were cashmere, of course! Oatmeal! Oatmeal, with a Fiorucci jean."
A Giorgio di Sant'Angelo dress on display brought Behnaz Sarafpour back to her school days, too. "Giorgio di Sant'Angelo is one of my favorite designers ever," she said. "When I first moved to New York to go to college, he had just died of AIDS — I think it was 1989 — and they were selling everything out of his studio, on Broadway in Soho. It was like a place to do gymnastics. He had gymnastics equipment in the middle of his showroom, and these amazing, amazing dresses. He had stretch tulle dresses that were a little bit bondage-y and a little Grecian, and I used to wear them a lot. They were all kind of built on a foundation that was like a bathing suit, with all the tulle wrapped around it. Back then I was a big club kid, and I used to wear a lot of Giorgio di Sant'Angelo to the clubs. I bought like, every showroom sample that I could afford to buy."
Everyone seemed nostalgic – except for Diane Von Furstenberg, in spite of having conceived the exhibit and contributed a seventies-era leopard-print wrap-dress of her own. "You never look back," she said. "You only look ahead. And you only regret the things you don't do." No word on whether that applies to cashmere leg warmers.