Michelle Obama Would Obviously Destroy You in a Push-up Contest
And look good doing it, too.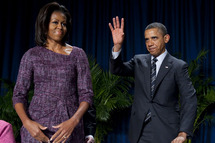 Michelle Obama hit the talk show circuit to promote the second anniversary of her Let's Move! campaign. After visiting Jay Leno, the First Lady sat down for an interview with Rachel Ray and will appear on the Ellen DeGeneres Show today. The preview shows Ellen challenging Michelle to a push-up contest — although we all have to tune in today to see who wins, of course. Yesterday, MObama also visited the future site of the Northgate Gonzalez supermarket in Inglewood, California, wearing a bright orange trench coat. Today, she attended the National Prayer Breakfast with Barack, wearing a purple tweed dress in Washington, D.C. See all these looks in the Michelle Obama Look Book.