Michelle Obama Wore a One-Shoulder Dress to the Governors Dinner
It also looks sparkly, but no full-length shots have been released.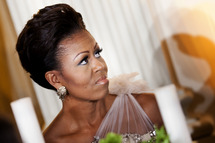 Last night, Michelle Obama accompanied her husband to the 2012 Governors Dinner in the State Dining Room of the White House. As in recent years, limited press photos have been published, but we can tell that Michelle wore a sequin-embellished gown with gathered tulle for the one-shoulder strap. (And that she looked pretty great, as usual.) Last week, the First Lady took a tour of the National Underground Railroad Freedom Center in Cincinnati, Ohio, wearing a blue dress and cardigan by Rachel Roy. See both these looks in our updated Michelle Obama Look Book.