Michelle Williams's Oscar Makeup Was Inspired by the Jil Sander Show
She was <em>thisclose</em> to doing a "boring" red lip instead.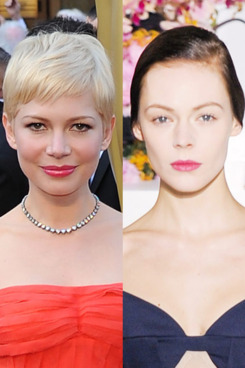 Michelle Williams's stylist Kate Young tells Into the Gloss that she got some last-minute inspiration from Raf Simons's last Jil Sander show on Saturday. "For Michelle, the inspiration was always that we'd do a contrast color lip — we were always saying red, red, red, red," she says. "And then I saw the Jil Sander show ... and it was that completely clean face that had this golden matte look to it, with a vibrant lip, and I sent it to Michelle at like six in the morning Sunday and said, 'Makeup inspiration?' and she said yes." Thank goodness, because clearly red lips would have been a disaster: "A red lip would have been boring actually; I'm glad we didn't do a red lip." Phew, crisis averted!