Oscar de la Renta Will Keep Beehives, Tomato Plants at His New Offices
And other fun facts from his <em>WSJ.</em> magazine profile.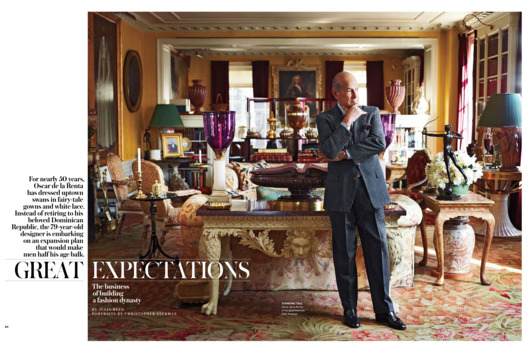 WSJ. magazine's profile of Oscar de la Renta, out online later today and on newsstands this weekend, spells out many details about the designer's ambitious expansion plans. In addition to revamping his fragrance line, he'll launch childrenswear this March, a home-accessories line in the late spring, and color cosmetics in the fall; he also plans to open a store a new store off Fifth Avenue that sells only bridalwear. Meanwhile, his entire company is moving from its current office space, where Oscar has been for his entire career, to one off Bryant Park with a nice perk: outdoor terraces, where they plan to keep beehives and tomato plants, yum! (Perhaps they'll produce branded honey, like Louis Vuitton?) In any event, he's not retiring anytime soon, despite last year's bout with cancer. "The most abused word in the world is 'retirement,'" he says. "Why should I stop doing something that brings me so much pleasure?"