PETA Accuses Kate Middleton of Wearing Fur
It was fake, you guys!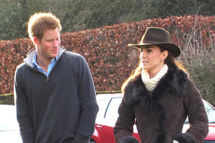 Kate Middleton has been photographed several times wearing this fake fur-lined jacket. The International Fur Trade Federation (also known as the IFTF, whose mission is "for Fur Fashion, Fur Style") apparently mistook Kate's coat for real animal pelt, and posted her picture under its "Celebrity Buzz" section. This in turn angered PETA, who reached out to Kate's people. Her communications team has issued the following statement to the IFTF: "Her Royal Highness was not wearing fur... We therefore insist that you remove the photo from your social media page and issue an immediate public retraction of your claim. To state that the Duchess is wearing fur is not only false but offensive."