Raf Simons at Jil Sander: A Retrospective
Looking back at the designer's greatest hits.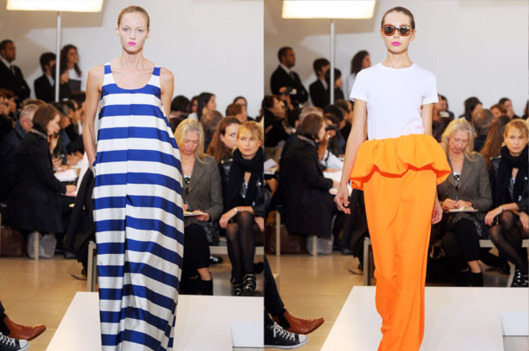 When Raf Simons took over at Jil Sander seven years ago, he was merely a little-known Belgian menswear designer with no experience making clothes for women. He got the job because Prada S.p.A., then Jil Sander's parent company, wanted to preserve the brand's reputation for pared-down, sculptural suiting, its cash cow at the time. Prada recognized Simons's suit-making abilities based on his eponymous menswear label (which he kept up throughout his tenure at Jil Sander), and hired him after the label's founder made her (second) stormy departure in 2005. Simons quickly established himself as a worthy successor, turning out new shapes season after season without losing touch with the label's spare, streamlined minimalism. Regardless of his next direction (!!!), Simons's gorgeous body of work at Jil Sander will be a tough act to follow. Take a look at some of the greatest hits from all his womenswear collections (plus a few from his men's, just for good measure) in our slideshow.
Related:
Confirmed: Raf Simons to Leave Jil Sander
Jil Sander the Designer Returns to Jil Sander the Brand
Jil Sander Confirms Jil Sander's Return
BEGIN SLIDESHOW