Remember to Buy Your 'Thin' Dress Next Fall
The illusion dress recently popularized by Stella McCartney, with dark panels on the sides to make you look thinner, has spawned.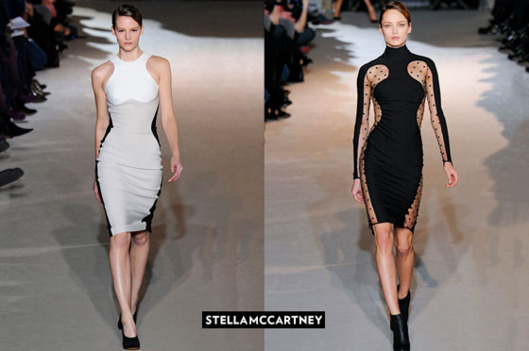 Of course the worst thing, if you're going to wear clothing, is to look fat in it. This statement precludes the new Marc Jacobs show, obviously. But to the great credit of Jacobs's originality, his collection included no illusion dresses, which have spawned more rapidly on the fall 2012 New York runways than Brangelina can adopt. Illusion dresses are the sheaths with contrasting panels of fabric on the sides that ought to make whoever's wearing them look slimmer. Stella McCartney recently popularized the style with the help of Kate Winslet, who has worn the dress on more than one occasion, and even earned it a spot on the Today show, where the anchors discussed how magical the style is. (Us Weekly, that publication for the masses if there ever was one, has called it "ultra-flattering.")
In a time when selling clothing, particularly the very expensive runway designer kind, is so very difficult, those showing at New York Fashion Week this season owe it to themselves to create slimming and therefore highly desirable pieces. And so: the illusion dress! Bebe and Topshop have already knocked it off, the Times noted in a recent "Critical Shopper" column in which writer Alexandra Jacobs professes she had wanted desperately to try on the dress, called the Octavia or the Miracle. But, the sales person told her, they "sold out immediately."
No matter, perhaps. More knockoffs are sure to emerge in the Zaras of the world. And next fall, you'll have a whole new slew of the expensive kind to choose from. So here's to looking thin, without which life would be horrible, obviously. Isn't it nice to know so many of these designers have your back in that way?