Roberto Cavalli Says You'd Have to Be Mad to Want to Stay in the New Armani Hotel
And by <em>mad</em>, he means legitimately insane.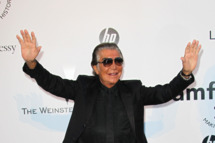 "Between Armani and me there is an abyss," Robero Cavalli reportedly explained to Italian newspaper La Repubblica recently. "Have you seen that new hotel? It looks like a psychiatric hospital." Cavalli then added, "Of course, I love Armani" — but, it seems, not enough to say nice things about the label's new ventures.