Slideshow: Remembering Zelda Kaplan, Beloved Party Animal
In celebration of one of New York's most exotic night owls.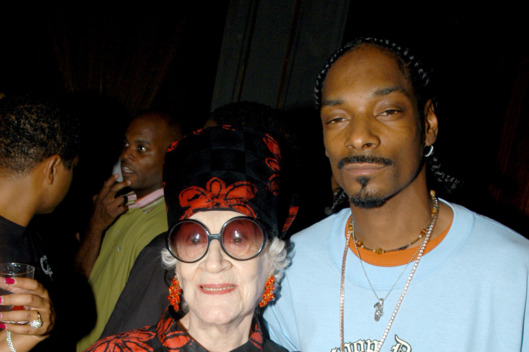 While socialite Zelda Kaplan's death was a dramatic one — she collapsed in the front row of a fashion show yesterday — it's fitting that she passed while in her element. Known for her exotic fashion sense and indefatigable partying, Kaplan was one of those fabulous New York dames who mastered the art of mixing high and low: When she wasn't traveling in Africa to campaign with tribal government leaders for women's rights, she was schmoozing with Snoop Dogg at Capitale or cutting the line at Bungalow 8. Enjoy our roundup of quotes and party photos from a life well-lived.
On dating:
''Two young men did recently ask if they could make love to me ... But what do I want with a 36-year old?'' [NYT]
On dancing:
"I just love a slow fox trot ... To me, the dancing the young people do in the clubs is exercise. There's no skill involved." [NYT]
On drinking:
"Shiraz." [NYM]
On her various occupations:
"I spent half my life relaxing and the other half crusading — I was a successful ballroom dancer and women's golf pro in Miami Beach in my 20s, a doctor's wife in New York in my 30s — and in my 60s and 70s I spent my time largely in Africa and Southeast Asia campaigning directly with local tribal government leaders for women's and children's rights." [NYM]
On a typical Wednesday night:
"Cobalt, then Cielo. Maybe to an Israeli film about clitoridectomies first." [NYM]
On angering Yali tribesmen in Indonesia when she ran out of film and couldn't take their picture:
''Boy, do those Yali guys get mad in a hurry ... Let me tell you, I expected an arrow in my back at any second.'' [NYT]
On Amy Sacco, nightlife maven and former owner of Bungalow 8:
"Amy lets me in even when there's a private party ... She's such a nice girl.'' [NYT]
On keeping up her energy:
"I think one of the things that keeps me healthy is that I'm not introspective at all ... The secret is being interested in things outside of oneself." [NYM]
On her bedtime:
"Anytime between midnight and 7 a.m." [NYM]
On aging:
''I want to be an example for young people so they aren't afraid of growing old and a lesson to old people that you can be productive. You don't have to sit around and wait for death.'' [NYT]
Related: Socialite Zelda Kaplan Dies After Collapsing at Fashion Show
BEGIN SLIDESHOW