Tavi Defends Lana Del Rey
The Rookie editor thinks Del Rey has created her own image.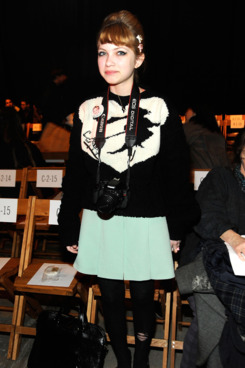 Tavi has received her fair share of online snarking, so perhaps its no surprise that the precocious editor thinks the many critics of Lana Del Rey need to calm down. "I don't understand why it's so horrible to create an image of yourself, because that's what pop music is," the Rookie editor said at the Band of Outsiders show on Saturday. "Even the celebrities who seem to be really real and down to earth still separate themselves from their image, so I don't get it. I feel like people think she's threatening because she's all these things that women aren't allowed to be, so people are trying to find the quality that isn't genuine, and want to take away credit that she, you know, made herself." Del Rey's notorious Saturday Night Live performance "wasn't good," said Tavi, but it was "proof to people who think she has a whole team behind her that she wasn't that trained."