Which One of Katy Perry's Weekend Outfits Scares You Less?
Purple sheep or football Barbie?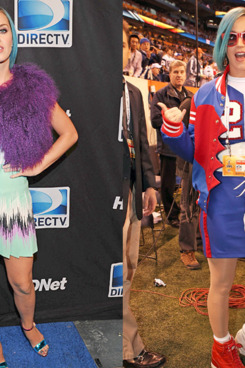 Katy Perry wore a multicolored dress by Versus, a purple furry vest, and Christian Louboutin sandals to the DIRECTV Celebrity Beach Bowl after-party in Indianapolis on Saturday night. To perform at the Super Bowl's pre-game show yesterday, Katy wore some sort of football uniform that equally repped the Giants and the Patriots.
Which look do you find less terrifying (or more fabulous)?